Jared Randall
Greenwich, CT Residential Real Estate Blog and Analysis:
November 20th-22nd
A weekly analysis brought to you by Greenwich Real Estate Guy.

As many of the subscribers may know, this blog/newsletter is posted on the Greenwich Patch every week. There was a mix up last week and it was posted after the weekend. Hence, I am keeping the featured property the same this week. The open house list is updated. Charts updated through end of October. Have a great Thanksgiving and enjoy your families.
The above pictured new construction home is located at
6 Lita Drive
in Greenwich. There are not many opportunities to own a new construction in lower mid country close to town. Lita is a great cul-de-sac right off of North Street. I love the shingle style mixed with brick and the architecture of the home. However, what stood out was the inside. Soaring nine foot ceilings on the first and second floor, phenomenal chef's kitchen with Wolf, Sub Zero, and Bosch appliances. The house has five bedrooms with four marble bathrooms with heated floors. The Master Suite has a balcony off of it as well as great walk in dressing room. The listing price is $3.65M. There will be an open house at 6 Lita from 2-4 p.m. on Sunday.
I have invested in my own MLS portal for individuals to set up their own custom searches. This way people can follow their specific search by area, school, price point, lot size, s.f. etc. Feel free to search properties. For a customized search click the gray arrows and you can edit the fields. For example, it is currently populated with all properties clicked. You can just click Residential then click type, area, and price range, and you can see what is available in your specific price range. After you have narrowed the search to your liking you can click "save this search" and you can set up your own portal, and receive emails as new properties come available. You can even track your favorites, and add notes or messages about properties. Or, you can just email me our parameters and I can set up a portal for you.
Please let me know if you would like me to provide customized information or statistics for you based on your criteria.
**The information on the featured property and all statistical information is from the Greenwich MLS.
**All opinions garnered from the statistics are my own
Properties Sold
The numbers for September and October are still pretty good comparatively. I feel from the amount of showings and feedback I am hearing from other agents that it seems slower than usual. I expect this to hit the date in 60-90 days.
New Listings
We had 96 new listings in October which is on point with the last few years.
Year to Date Sold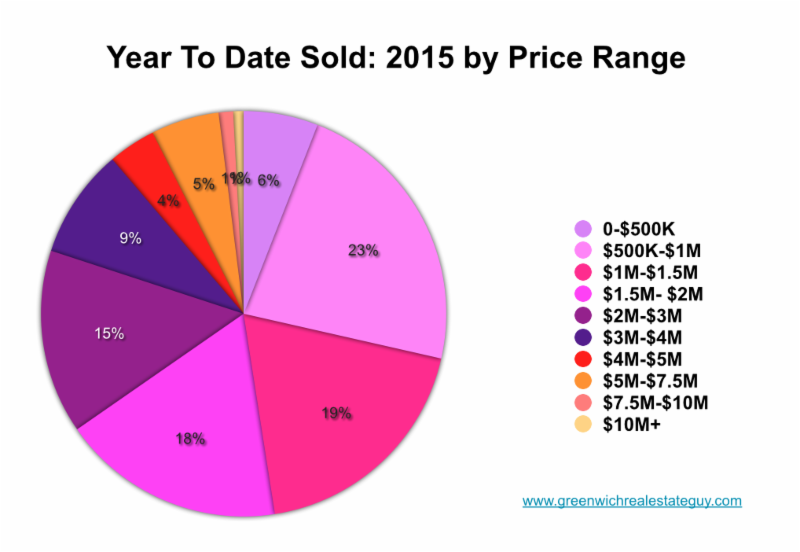 Looking at these two graphs as well as the months on average can really guide you on the markets in your price range. As you can see the markets are a lot more competitive under $2M than over.
Year to Date Available
In an effort to define the different markets as a good time to buy or sale I believe one needs to look at the months on average it would take to sell through the inventory we
have. The first chart is the 2014 inventory vs. sold numbers. The second chart is inventory today vs. sold properties.
| | | | | | | | |
| --- | --- | --- | --- | --- | --- | --- | --- |
| Price Range | 1/31/14 | 2/28/14 | 3/28/14 | 4/25/14 | 5/16/14 | 7/31/14 | 12/31/14 |
| 0-$500K | 10.2 | 6.0 | 7.0 | 6.1 | 5.5 | 5.6 | 3 |
| $500K-$1M | 9.7 | 8.6 | 9.0 | 8.7 | 8.6 | 5.2 | 3.7 |
| $1M-$1.5M | 5.5 | 9.5 | 8.9 | 10.3 | 7.8 | 6.4 | 4.4 |
| $1.5M-$2M | 8 | 14.5 | 13.6 | 18.4 | 17.8 | 11 | 6.7 |
| $2M-$3M | 4.7 | 9.2 | 11.6 | 14.3 | 14.2 | 11.1 | 7 |
| $3M-$4M | 11 | 13.1 | 11.8 | 14.2 | 14.5 | 10.4 | 9 |
| $4M-$5M | 11.9 | 8.9 | 13.1 | 14.4 | 22.1 | 17.7 | 18.4 |
| $5M-$7.5M | 20.7 | 32.0 | 39.5 | 59 | 56.6 | 32 | 25.1 |
| $7.5M-$10M | n/a | n/a | 71.5 | 51 | 31.5 | 59.5 | 21.6 |
| $10M+ | 22.4 | 27.2 | 42.0 | 22.7 | 33.8 | 29.9 | 35.2 |
| | | | | | | | |
| --- | --- | --- | --- | --- | --- | --- | --- |
| Price Range | 2/28/15 | 3/30/15 | 4/30/15 | 5/31/15 | 6/30/15 | 7/31/15 | 9/21/15 |
| 0-$500K | 4.5 | 4 | 9.6 | 9.6 | 5.4 | 5.3 | 4.1 |
| $500K-$1M | 6.3 | 4.2 | 7.5 | 8.6 | 7.4 | 6.8 | 5.3 |
| $1M-$1.5M | 4.8 | 4.5 | 6 | 5.5 | 4 | 3.3 | 4.5 |
| $1.5M-$2M | 6.9 | 7 | 8.8 | 8.1 | 6.5 | 5.8 | 8 |
| $2M-$3M | 10.1 | 8 | 14 | 15 | 11.6 | 11.6 | 11.1 |
| $3M-$4M | 31 | 20.5 | 25.5 | 25.3 | 16.2 | 13.1 | 24.3 |
| $4M-$5M | 54.3 | 26.6 | 30.3 | 27.3 | 17.2 | 15.5 | 23.6 |
| $5M-$7.5M | 49.1 | 30.2 | 34.6 | 31.7 | 23.8 | 20.9 | 30.2 |
| $7.5M-$10M | 20.4 | 36 | 31.3 | 36.4 | 49.6 | 47 | 37.7 |
| $10M+ | 41.7 | 76.5 | 80.5 | 86 | 103.1 | 120.8 | 78 |